Conversations with G mixes healing and angelic presences into a unique, spiritual autobiographical tale.
C. Norman Shealy's sometimes engaging memoir Conversations with G explores healing and wholeness.
The book is both a how-to and a memoir. It includes entertaining accounts from Shealy's youth, such as moments he spent with psychics who seemed to possess intuitive personal knowledge about him. It also traces the years he spent looking for love in Boston. Through all of its personal stories, the book remains most focused on Shealy's mystical evolution and transformation.
The ethical challenges that arose while Shealy trained at Massachusetts General Hospital are covered, as is his formation as a spiritual healer. He employed a technique called "Biogenics," which involves being present, deep relaxation, sensory biofeedback and control, balancing emotions, and becoming spiritually attuned. Shealy put such heady ideas into practice in his work to heal others.
Angelic encounters with G also play into Shealy's unique approach to patient care. He discusses his work as a physician with this mysterious character, who in turn proposes novel, alternative approaches to medicine, such as using crystals to detoxify a patient's earth energy. G's advice also concerns chakras, which become a recurring point of focus.
Still, for all of G's importance, he is a scant presence in the text; his wisdom comes through dialogue that is reproduced verbatim. G himself remains an unknown quantity. The text similarly becomes meandering and laborious, focused on making arguments about the healing process over recreating sympathetic scenes.
Shealy's interest in alternative care dominates and is filtered through his own story. His "kundalini," or enlightenment, experience is particularly interesting, occurring outside of established religion. The spirituality expressed is a mélange of different traditions, most clearly tied to a mystical strain of Christianity.
Arguments about the ineffectiveness of traditional Western healing methods are made through case studies that show Shealy incorporating his mystical ideas. Some of the healing borders on miraculous—involving past life regressions and confrontations with evil spirits—and sometimes strains belief. Angelically inspired acupuncture points are detailed with overwhelming specificity. The book's language and writing style are educational and learned. The text pauses to explain its ideas, exploring chakras, personality archetypes, karma, and other introductory spiritual material. Bold text is used to highlight key ideas and themes.
Still, the book is not entirely any one thing—neither fully a spiritual healing text nor a memoir. Shealy's personal story bleeds into instructions for alternative care, and the narrative does not flow well as a result. Shealy's journey is often lost in the mix.
Conversations with G mixes healing and angelic presences into a unique, spiritual autobiographical tale.
JEREMIAH ROOD (October 15, 2018)
Conversations with G: A Physician's Encounter with Heaven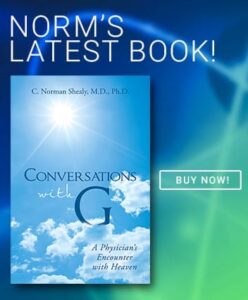 by C. Norman Shealy
Balboa Press (Jul 19, 2018)
Softcover $14.99 (190pp)
978-1-982208-31-8
Disclosure: This article is not an endorsement, but a review. The author of this book provided free copies of the book and paid a small fee to have their book reviewed by a professional reviewer. Foreword Reviews and Clarion Reviews make no guarantee that the author will receive a positive review. Foreword Magazine, Inc. is disclosing this in accordance with the Federal Trade Commission's 16 CFR, Part 255.