Chronic pain is not only disabling; it markedly increases anxiety and depression. Of course, you have seen many physicians and they can find no cause or cannot correct it. To deal with the effects of chronic pain, they offer you opioids, antidepressants and antianxiety drugs, none of which really work!
Electrotherapy
Depending on the location of the pain, the use of the Transcutaneous Electrical Nerve Stimulator, introduced by Shealy in the 1960's, with electrodes above and below the pain is a first approach. If that does not work, apply electrodes bilaterally on Bladder 60 and Kidney 3 acupuncture points. (See images below for the location of these points – Bladder 60 and KJ 3.)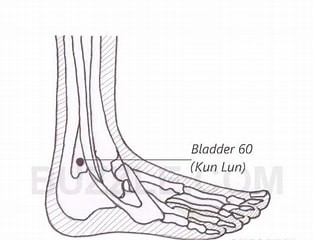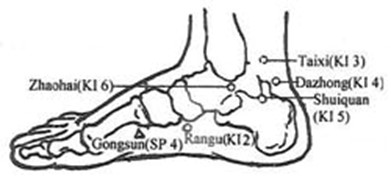 Stimulating these four points as strongly as is comfortable often helps pain in any part of the body! Alternatively for arm and neck pain, try electrodes an inch above the front and back of both wrists.
If these do not work, the Shealy-Sorin Gamma PEMF® used over the area of pain often works well to relieve the effects of chronic pain. (It also is by far the best-known treatment for anxiety and depression! Of course, it also is excellent for hypertension, poor oxygenation, diabetic neuropathy, etc.)
There is one final electrotherapy that can be considered—spinal cord stimulation. This electrotherapy is essentially a pacemaker over the spinal cord which Shealy introduced in the 1960's. But we would never recommend it until the other simpler therapies are thoroughly explored!
Mind training
Retraining the mind is another powerful tool for dealing with the effects of chronic pain. It is also effective for many other problems including anger, depression, anxiety, hypertension, and many others. (It is far more useful than all mood drugs in the world!)
One way of retraining your mind is with autogenic training. This is the most researched therapy in history – over 28,000 articles!
Biogenics™, which expands on autogenic training, was introduced by Shealy in the 1970's, based upon his doctoral dissertation in psychology. It now consists of 68 different mental exercises, www.Biogenicscourse.com.
It is worth considering Biogenics™ eight hours daily! If you cannot do that using the Biogenics course, consider an intensive one- or two-weeks program at Shealy-Sorin Wellness Institute.
Intensive program
An intensive program to help you overcome the effects of chronic pain will also include all the electrotherapy tools, consultations, Past Life Therapy and acupuncture, as well as consideration of intravenous vitamin C, ozone, and nutritional therapy. Of course, you may want to do some nutritional approaches at home first.
Nutritional support
These nutritional approaches should include supplementation. If you weigh more than 120 pounds add 50,000 units of vitamin D 3 once a week, Shealy-Sorin Essentials 4 daily, Shealy-Sorin Youth Formula, four daily, trhttps://normshealy.shop/products/tryptophan-1000mgyptophan 6000 mg daily, lithium orotate 15 mg daily, taurine 4000 mg daily, astaxanthin 30 mg daily. And you will want to use Shealy-Sorin magnesium lotion two teaspoons on skin twice daily.
Transcutaneous acupuncture
Additionally, you may benefit from the use of Fire bliss, Air Bliss, Earth Bliss, and Crystal Bliss daily and soon to be introduced Pain Bliss for local application. Indeed, for superficial chronic pain, you may benefit from the application of lidocaine cream.
Bodywork
A final technique to consider in alleviating chronic pain is bodywork – massage, physical therapy and chiropractic therapy by a chiropractor. And especially if you have low back pain, with or without radiation down the leg, see a REAL D.O., one who does osteopathic manipulative therapy as the most missed diagnosis in medicine is a sacral shear, a rotation of the sacrum!
Other than traditional osteopathic physicians and Drs. Shealy and Sorin, M.D.'s and chiropractors do not even know this problem exists! We have corrected hundreds of them in 30 seconds.
Of course, conventional medicine defines chronic as six or more months. Since the worst of major fractured bones heals within 3 months, and all the treatments already discussed help speed up healing, it is worth starting all pain controls mentioned as early as possible!
Indeed if everyone began using Autogenic Training at the beginning of any illness, healing would be faster and more effective. Repeating the following six phrases up to 18 times each is most effective:
My arms and legs are heavy and warm;
My heartbeat is calm and regular;
My breathing is free and easy;
My abdomen is warm;
My forehead is cool;
My mind is quiet and still.
At the sHEALy-Sorin Wellness Institute we offer email, telephone, Skype and Zoom consultations. Please consult this page https://realholisticdoc.com/holistic-health-services/ for more information. Put the HEAL into your life at 417-351-5221.
Norman Shealy, M.D., Ph.D. is the father of holistic medicine. Dr. Sergey Sorin is a holistic physician as well as the CEO and medical director of the Shealy-Sorin Wellness Institute. Both doctors recommend autogenic focus (the basis of the Biogenics System) as part of your overall commitment to self-health and enhancing your positivity.